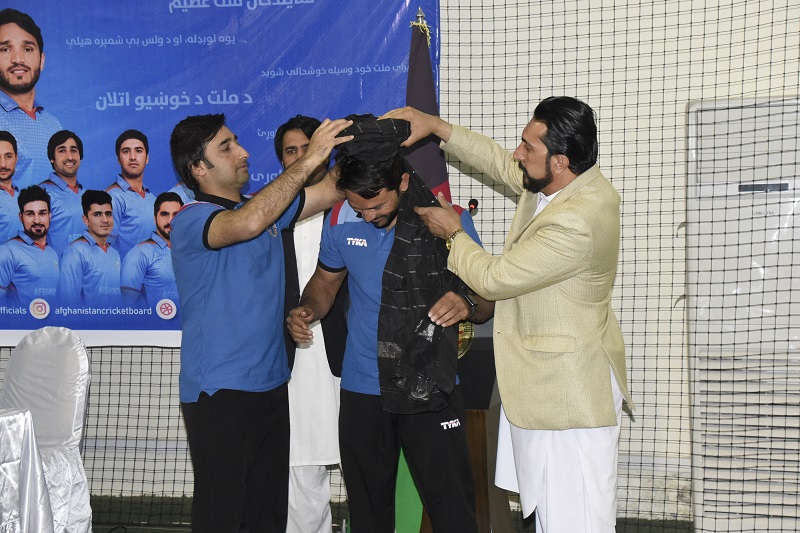 Afghan Atalan leave towards Scotland, Ireland ahead of World Cup
Afghanistan Cricket Board leadership, staff, members of Media bid farewell to national team as they left to Scotland where they will participate in a two match ODI series followed by another two match series against Ireland. After the series against Ireland gets over, the national team will travel to England to formally initiate their World Cup campaign.
Addressing the gathering held at ACB Headquarters in Kabul, ACB Chairman Azizullah Fazli said," It is a historic day for the country as the National Cricket team leaves to participate in its second World Cup, while the historic consultative Loya Jirga is also being concluded."
Fazli added, "It will be a proud moment for Afghanistan when our national players participate in the second World Cup hoisting the national flag and national anthem. These players are the heroes that bring joy to our nation."
Mr. Fazli further added that the players will give their best and are united in pursuit of their mission. He further said, "Previously, team Afghanistan was referred to as Blue Tigers. However, the team will be henceforth referred to as Afghan Atalan (Afghan Heroes) which presents its true image. "
Fazli also expressed his thanks to former captain, Asghar Afghan acknowledging his efforts for the national team over the years. He called on the fans to continue praying for the national team's success in the upcoming World Cup.
Fazli remarked that skipper Gulbadin Naib has been given a big responsibility of leading the team and that he is confident that Naib will be able to succeed in the assigned role with the help of senior players including the former skipper Asghar Afghan.
Addressing the media, Skipper Gulbadin Naib expressed confidence that his team will perform well. He acknowledged that leading the team is a big responsibility. "However, with the help of other senior players, the burden will be lighter and we will give our best. " Naib added.
Naib was confident of the team's chances in the mega Cricket event. He said that the team does not only look forward to participating, but to make it at least to the second round. Naib was thankful for the nation's support and vowed to continue delivering results that bring joy to the nation.
During the event, ACB Chairman Azizullah Fazli and former captain Asghar Afghan also conferred the current skipper Gulbadin Naib with the traditional turban which symbolizes leadership in Afghan tradition.
Afghan spin-trio of Rashid Khan, Mohammad Nabi and Mujeeb ur Rahman, who are currently playing in Indian Premier League, are set to join the national team soon.
Afghanistan will play two warm-up matches against Pakistan and England before they play their first match in the ICC Cricket World Cup 2019 against Australia on 1st June.