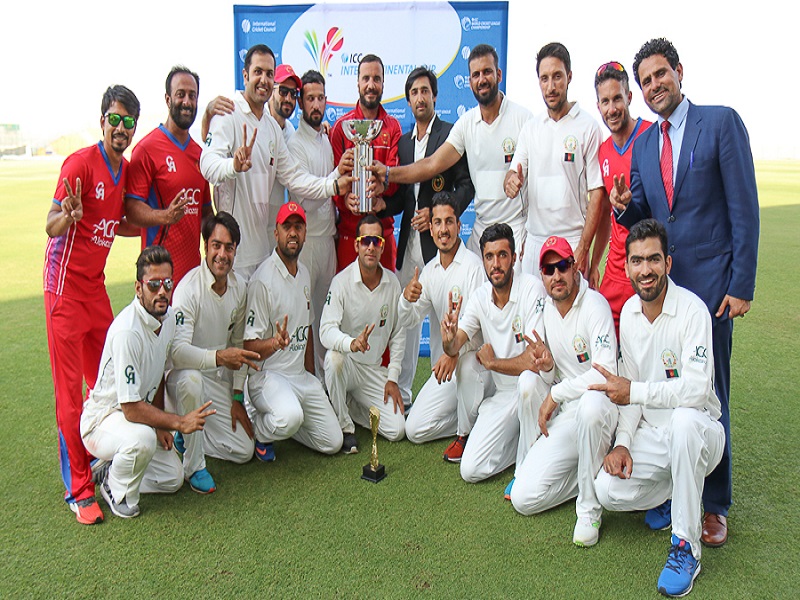 ACB confident of further success in 2018
"2017 was a year of achievements and victories for Afghanistan cricket, and it is bound to witness considerable improvements in the year 2018 as well. Domestic Cricket will be further developed and infrastructure development will be a key area of focus. The Afghanistan Cricket Board (ACB) in coordination with the Ministry of Education intends to introduce cricket as part of the schools' curriculum in order to develop the game at grass-root level." These remarks were made by ACB Chairman, Atif Mashal, in a press conference held at ACB headquarters in Kabul on Sunday, 31st December 2017, which was also attended by Chief Executive Officer (CEO), Shafiqullah Stanikzai. The press conference was held in order to highlight the achievements of ACB in the year 2017; provide information about ACB's plans for 2018; and announce Phil Simmons' appointment as the new head coach of Afghanistan.
Mr. Mashal added that 2017 was the best year for Afghanistan cricket and expressed confidence that 2018 will also be vital for further development of the game in the country. He further added that in the coming year, infrastructure development will be a core area of focus for ACB – existing stadiums, cricket grounds and academies will be further developed, and new projects will be launched, across the country.
ACB has had noteworthy improvements in administrative, developmental and financial affairs as well as recording considerable success in domestic and international cricket. Mr. Mashal stated that although ACB is a financially independent organization, he would still like to request the government to continue its assistance for the development of cricket infrastructure in the country. He also urged the private sector and the business community, and other stakeholders who have assisted the ACB financially, to continue their valuable assistance as it also provides them an opportunity to extend their businesses.
Mr. Mashal said, "Afghanistan is now a Full Member of the International Cricket Council (ICC), and our cricket is globally recognized. Therefore, we will work closely as we expect higher investments and financial contribution compared to what we demanded previously. "
As per ACB's future plans, stadiums, cricket grounds and academies are to be built in five zones of the country- the construction of some of these have already started in some provinces.
In relation to the development of domestic cricket, Mr. Mashal added that prior to this; the domestic structure included five zones (region) across the country, however, since Kabul is home to a higher number of the country's population, it will now be designated as a separate region, taking the number of competing regions from five to six. He further stated that, "In 2018, ACB will introduce cricket in schools across the country. We will also launch Club Championship and are committed to developing domestic cricket, as it serves as a gateway for us to find new talent." He further stated that, "in 2018, ACB will open its doors for talented youngsters below the age 18 to train in national cricket academies."
ACB will also strive for further capacity building of its staff, so that they are able to operate as per international standards.
The chairman also stated the ACB plans to launch the Afghan Premier League (APL), a T20 league, in 2018. This would be a great earning opportunity opportunity for players as well as for the ACB to generate considerable revenues. It will also provide a platform for Afghan players to play alongside great names in international cricket and make the most out of their experience.
As Afghanistan is now a Full Member of the ICC, it is imperative to organize and standardize its affairs, as well as comply with international standards during all matches. Therefore, the ACB formed a Discipline Committee, which was also announced in the press conference. This committee will be headed by Mr. Allahdaad Noori. The other members include ACB's Legal Advisor, Sayed Habib Hashimi, Wali Amin and former players Raees Ahmadzai and Hasti Gul Abid.
Mr. Mashal also requested fans not to indulge in inappropriate behavior and avoid offensive language when teams lose matches. He added, "the ACB officials show grace and patience when confronted by negative comments; however, the players are our heroes who have brought joy and pride to the nation on numerous occasions. They never play to lose, they play to win. Please do not use offensive words against them and let them play with passion and enthusiasm."
CEO Shafiq Stanikzai expressed his satisfaction about the technical aspect of the Afghanistan team. He added that the National Cricket Team has performed well in the year 2017 as they lost only a single series and winning the rest. Mr. Stanikzai added that after being granted Full Member status, the ACB Chairman is now a member of the ICC Board of Directors whilst the CEO serves as a member of the ICC Chief Executives Committee. They will participate in meetings of the said committees, which are bound to contribute significantly to the development of Afghan Cricket.
Mr. Stanikzai further added that the Afghanistan national team is now a technically capable team and has proved in the past that it is a formidable team in world cricket. He said, "Afghanistan is the current Intercontinental Champions and has also won the Desert Challenge T20 Cup, and the Under-19 team won the ACC Under-19 Youth Asia Cup 2017 in Malaysia. The National team recently lost only one series, which was a good wake-up call for us. "
One of the criticisms raised recently against ACB was regarding the lack of competitions for the national side. In response to this, Mr. Stanikzai said, "the ICC has a specific schedule of matches for Full Member nations, which is prepared once every four years. Therefore, when the schedule is renewed in 2019, Afghanistan will also get its share of matches against other Full Members. "
Mr. Stanikzai also added that ACB has implemented its plans in 2017 successfully and will strive to do more in 2018, especially for further development of the game in the country. He added that ACB's three-year strategy as well as its constitution has been approved by the Board members, which is important for the development of ACB's overall operations.