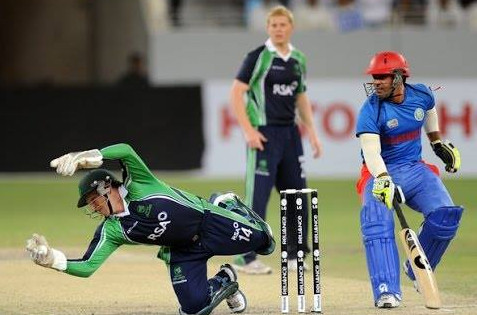 Afghanistan to host Ireland in first nine game series
Kabul: Afghanistan and Ireland confirm the dates of a reciprocal tour. Both sides agreed to play 3 T20Is, 5 ODIs followed by an Intercontinental Cup game in March 28-31 2017. Recently both sides recent played a very competitive ODI series in Belfast with the series tied 2-2.
"We have variety of fixtures and we are continuously developing Afghanistan Cricket Team international development. I expect the nine game series against Irish will be challenging and competitive," said Afghanistan Cricket Board Chairman, Nasimullah Danish.
"Afghanistan had an excellent win in ODI's against Ireland; this will be healthy practice for Afghan players to be involved in three Twenty20 and five ODIs on home ground at India.
"We are really looking forward to hosting the Irish team, this will be great contest between well-suited teams, this series and I-Cup matches will continue close rivalry, and will also count towards qualification for the Cricket World Cup in 2019," said CEO of Afghanistan Cricket Shafiq Stanikzai.
Cricket Ireland Head Coach John Bracewell welcomed the series saying: "This will be a great opportunity for the squad to test themselves in nine matches across three formats.
"Games between the sides are always competitive and I expect more of the same in this series. It's always good for a team's development to test themselves in different conditions, and there's no better place than India to do that.
"I'm sure the younger players in particular will benefit from playing in sub-continental conditions and it will enrich their cricketing experience. It certainly promises to be an exciting month's cricket and one which the players will relish."
The teams have played seven ODI's to date, with Afghanistan winning three and Ireland four.
Afghanistan Cricket Board says that ticketing and pricing details for the series will be announced on www.cricket.af "in due course".
COMPLETE FIXTURES:
T20s
1st T20: March 8, 2017 in Greater Noida Cricket Stadium, India
2nd T20: March 10, 2017 in Greater Noida Cricket Stadium, India
3rd T20: March 12, 2017 in Greater Noida Cricket Stadium, India
ODIs
1st ODI: March 15, 2017 in Greater Noida Cricket Stadium, India
2nd ODI: March 17 19, 2017 Greater Noida Cricket Stadium, India
3rd ODI: March 19, 2017 in Greater Noida Cricket Stadium, India
4th ODI: March 22, 2017 in Greater Noida Cricket Stadium, India
5th ODI: March 24, 2017 in Greater Noida Cricket Stadium, India
ICC Intercontinental Cup
5th Round: March 28-31 2017 in Greater Noida Cricket Stadium, India
---