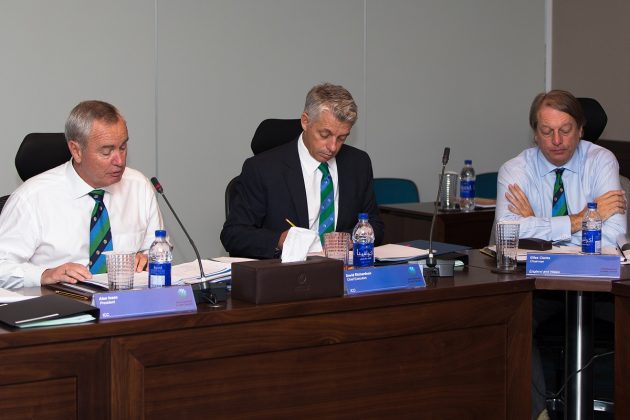 ODI fund planned to help Associate nations
ICC chief executive David Richardson has said that profitability of fixtures for broadcasters has been a stumbling block for getting top Associates Ireland and Afghanistan fixtures since their inclusion in the ICC ODI rankings table earlier this year. However, he said that the possible creation of an ODI facilitation fund could help alleviate these obstacles.
"It's a fact that even matches between the lower-ranked Full Members, like Zimbabwe versus Sri Lanka for example, don't make revenues so that the series are making a profit or if it does it's making a very small profit," Richardson said at the ICC World Twenty20 Qualifier in Malahide. "You can imagine series between Afghanistan and the West Indies also cost a lot and the revenues might not necessarily be enough to cover those costs.
"One of the talking points or suggestions that is being considered, and in October we're having a joint meeting between our chief executives committee and the board on which there will be six representatives from the Associate members taking part in that discussion, will be trying to make sure that Full Members take some responsibility in scheduling fixtures against Associate members and if finances are a problem that we think of introducing an ODI fund similar to the Test fund that was introduced to help subsidise the costs of those series."
Richardson also said it is possible for Full Member countries to be forced to participate in future World Twenty20 Qualifiers. If Bangladesh or Zimbabwe finish outside the top eight spots on the ODI rankings table by September 2017, they will have to compete in the 50-over World Cup Qualifier with Associates for the final two spots in the 10-team event for 2019. That could be the case in the future for the ICC's flagship T20 tournament as well.
"When we put the package together for this next eight-year cycle, it was envisaged that we raise the profile of these qualifying tournaments, number one by making it crucial for qualification but also involving the Full Members, not excluding them from having to participate in these qualifying tournaments going forward. The objective to that is not only to make them self-sufficient and generate some more revenues for everybody for the development of the game but also just to raise the profile of these countries. "Before, for Holland, if they got to the World Cup they got a bit of profile. If they just missed out, they lost out on that. If we can raise the profile of these tournaments, and you've seen evenly matched teams provides for good entertainment, it will raise that profile. It is good for cricket in those countries as well, even if they don't end up going to the tournament itself."
As for the ODI rankings table, if Zimbabwe were to dip below Afghanistan or Ireland, they may still be protected due to their Full Member status while the lower-ranked Associate would have a play-off with the top team in the WCL Championship for promotion into the ODI rankings table. Richardson conceded that this wasn't meritocratic but that Zimbabwe had earned their status through historical performances, which needed to be taken into consideration.
"At this stage the board, all they've agreed to do is say that it's the lowest ranked Associate member who would play-off," Richardson said. "At this stage we have got this distinction between Full Members and Associate members. I think long term, that distinction will eventually vanish but its really long term and not in the foreseeable future. A proper promotion and relegation would mean that the bottom ranked team would have to play off but that's not the situation we've got. I think it's a process and we're working towards something.
" Explaining the decision to move the World Twenty20 from a two- to a four-year cycle, Richardson argued it was done so as not to "kill the golden goose". The increasing popularity of other domestic T20 tournaments such as the IPL, Big Bash and Caribbean Premier League were also factors.
"I think the World T20 is valuable and if you play it too often it will become less valuable," Richardson said. "We also have to recognise that around the world we have these domestic Twenty20 leagues which are high profile, are very attractive to broadcasters and it's a case of there's premium content out there and probably less is more.
" A reduced tournament cycle means Associate nations will have fewer competitive and funding opportunities in a quadrennial World T20 cycle than the biennial tournament structure that was previously in place. However, Richardson claimed Associates will be better funded in other ways to make up for the loss in playing opportunities.
"When it comes to funding for Associate members, it needs to be looked at not only in respect of participation fees," Richardson said. "The bottom line is that a country like Ireland, with the projected revenues that the ICC is hoping to achieve over the next eight-year cycle, a doubling of the participation fee will be dwarfed by the increased funding Ireland will receive as one of the top Associate members."
Richardson commended the two host countries Ireland and Scotland for the job they have been doing in hosting the World Twenty20 Qualifier over the past two weeks. When asked what it would take to assign the World Twenty20 itself to an emerging market, similar to what World Rugby has done in awarding the 2019 Rugby World Cup to Japan, Richardson said that profitability would be the most important factor both from a gate revenue and television rights standpoint.
"I don't think it's impossible to imagine. What we have to consider when awarding events is number one, will it at least optimize the revenues. So is it in the correct time zone, will sponsors want to get involved knowing that there's an event in these particular places in the next four or five years? So that's a factor that needs to be taken into consideration. At the moment we are too reliant on revenues generated out of India. It's a problem for the game. Everybody says it.
"If we can open up new markets, be it the USA, Europe or whatever, then there's no reason we can't take major global events to those regions. The other aspect of course is facilities. Cricket is difficult. We've got to have great facilities. We've tried Malaysia before for Under-19 events and yes everyone did their best and it wasn't too bad but it wasn't really good enough. So when we're deciding whether to go to Kenya or Ireland, Ireland could probably manage it. But a major global event needs 40,000 to 50,000 seat stadiums. Those factors have to be taken into account."