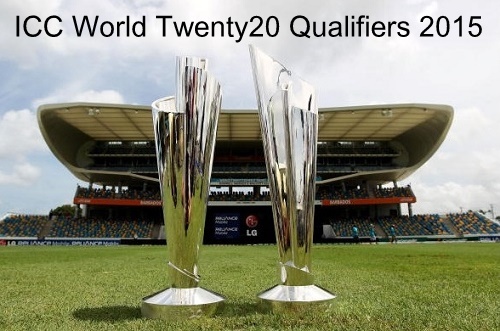 Squads confirmed for ICC World Twenty20 Qualifier 2015
The top six sides from the 18-day tournament will join the 10 Full Members for the ICC World Twenty20 India 2016.
Squads confirmed for ICC World Twenty20 Qualifier 2015. Ireland will once more by led by influential captain William Porterfield, who is the second leading run scorer in the competition's history.
Rival host captain Mommsen and Porterfield excited about tournament as preparations intensify ahead of the ICC World Twenty20 Qualifier 2015, which is set to be staged in Ireland and Scotland from 9 to 26 July, the International Cricket Council (ICC) can confirm all 14 competing squads.
The top six sides from the 18-day tournament, during which 51 matches will be played, will join the 10 Full Members for the ICC World Twenty20 India 2016, which will be held from 11 March to 3 April 2016.
According to the format of the ICC World Twenty20 Qualifier 2015, the sides that top the two groups will automatically qualify for the ICC World Twenty20 India 2016, while the sides that finish second and third in each of the two groups will play cross-over matches with the two winners joining the table-toppers for the India tournament.
In the July tournament, Ireland will also aim to complete a hat-trick of titles after it won the March 2012 and November 2013 qualifiers, both times defeating Afghanistan in the final.
Ireland will once more by led by influential captain William Porterfield, who is the second leading run scorer in the competition's history on 680, 10 runs ahead of his long-time opening partner Paul Stirling and 36 runs behind Afghanistan's Mohammad Shahzad (716 runs). He has also played 29 matches in the competition – the joint-most of anyone alongside his team-mates Kevin O'Brien and Gary Wilson.
Porterfield has led the team since 2008 and to date has played in 37 T20 Internationals. Previewing the squad, the left-handed opener said: "The squad cannot wait for the qualifiers to come around again. The thought of getting to another ICC World Twenty20, especially with the potential to qualify from home, is an exciting one.
"There is a great blend of talented youth and experience throughout the squad which will stand us in good stead."
The leading wicket takers in the competition's history are; Scotland's Majid Haq (34), Netherlands' Mudassar Bukhari (33) and Ireland's George Dockrell (31).
Eight of the 14 teams have participated in the main competition, with Canada, Namibia, PNG, USA, Oman and Jersey (in its debut outing in the World T20 Qualifier) hoping to make it for the first time.
Meanwhile Scotland captain and reigning ICC Associate and Affiliate Cricketer of the Year Preston Mommsen, also believed that his squad will rise to the challenge of facing the leading emerging nations in world cricket. "As a squad, we're really excited at the prospect of co-hosting such an important tournament. It will be a great opportunity to showcase our limited-overs skills for the first time since the ICC 2015 World Cup, and I know the guys will relish playing in front of our home support.
"We have a good balance of youth and experience, capable of playing some very dynamic cricket - it's a squad to be extremely excited about.? ?
AFGHANISTAN: Asghar Stanikzai (captain), Javed Ahmadi, Aftab Alam, Mirwais Ashraf, Sharafudin Ashraf, Hamid Hassan, Nawroz Mangal, Mohammad Nabi, Gulbadin Naib, Shafiqullah Shafaq, Mohammad Shahzad, Samiullah Shinwari, Dawlat Zadran, Najib Zadran, Shahpur Zadran
CANADA: Rizwan Cheema (captain), Saad Bin Zafar, Khurram Chohan, Navneet Dhaliwal, Satsimranjit Dhindsa, Nikhil Dutta, Jeremy Gordon, Ruvindu Gunasekera, Amarbir Hansra, Shaheed Keshvani, Nitish Kumar, Cecil Pervez, Junaid Siddiqui, Hamza Tariq, Srimantha Wijeyeratne
HONG KONG: Tanwir Afzal (captain), Irfan Ahmed, Nadeem Ahmed, Haseeb Amjad, Jamie Atkinson, Waqas Barkat, Mark Chapman, Aizaz Khan, Anas Khan, Nizakat Khan, Waqas Khan, Ehsan Nawaz, Babar Hayat, Anshuman Rath, Kinchit Shah,
IRELAND: William Porterfield (captain), Andrew Balbirnie, Alex Cusack, George Dockrell, Tyrone Kane, Andrew McBrine, Graeme McCarter, John Mooney, Kevin O'Brien, Niall O'Brien, Stuart Poynter, Paul Stirling, Stuart Thompson, Gary Wilson, Craig Young
JERSEY: Peter Gough (captain), Corey Bisson, Dom Blampied, Corne Bodenstein, Paul Connolly, Ed Farley, Anthony Kay, Jonty Jenner, Ben Kynman, Tommy Minty, Rhys Palmer, Chuggy Perchard, Callum Rabet, Ben Stevens, Nat Watkins
KENYA: Rakep Patel (captain), Emmanuel Bundi, Narendra Kalyan, Irfan Karim, Karan Kaul, Lucas Ndandason, James Ngoche, Shem Ngoche, Collins Obuya, Eugene Ochieng, Nehemiah Odhiambo, Nelson Odhiambo, Elijah Otieno, Morris Ouma, Gurdeep Singh
NAMIBIA: Nicholas Scholtz (captain), Stephen Baard, Sarel Burger, Christopher Coombe, Jason Davidson, Gerhard Erasmus, Zhivago Groenewald, Louis Klazinga, JP Kotze, Bernard Scholtz, JJ Smit, Christiaan Snyman, Gerrie Snyman, Raymond van Schoor, Craig Williams
NEPAL: Paras Khadka (captain), Pradeep Airee, Binod Bhandari, Shakti Gauchan, Sompal Kami, Karan KC, Subash Khakurel, Siddhant Lohani, Gyanendra Malla, Anil Mandal, Jitendra Mukhiya, Rajesh Pulami, Sagar Pun, Basant Regmi, Sharad Vesawkar
NETHERLANDS: Peter Borren (captain), Rahil Ahmed, Wesley Barresi, Mudassar Bukhari, Ben Cooper, Vivian Kingma, Ahsan Malik, Stephan Myburgh, Max O'Dowd, Michael Rippon, Timm van der Gugten, Paul van Meekeren, Thijs van Schelven, Pieter Seelaar, Michael Swart
OMAN: Sultan Ahmed (captain), Yousuf Abdulrahim, Zeeshan Ahmad, Amir Ali, Khawar Ali, Munis Ansari, Aamir Kaleem, Mehran Khan, Ajay Lalcheta, Sufyan Mahmood, Zeeshan Maqsood, Muhammad Nadeem, Rajeshkumar Ranpura, Jatinder Singh, Vaibhav Wategaonkar
PAPUA NEW GUINEA: Jack Vare (captain), Charles Amini, Sese Bau, John Boge Reva, Mahuru Dai, Willie Gavera, Loa Nou, Kila Pala, Pipi Raho, Lega Siaka, Chad Soper, Tony Ura, Vani Vagi, Assadollah Vala, Norman Vanua
SCOTLAND: Preston Mommsen (captain), Richie Berrington, Kyle Coetzer, Matthew Cross, Josh Davey, Con de Lange, Alasdair Evans, Michael Leask, Calum MacLeod, Gavin Main, George Munsey, Safyaan Sharif, Rob Taylor, Craig Wallace, Mark Watt
UAE: Mohamed Tauqir (captain), Fayyaz Ahmed, Amjad Ali, Saqib Ali, Umair Ali, Shaiman Anwar, Faizan Asif, Nasir Aziz, Manjula Guruge, Amjad Javed, Muhammad Naveed, Swapnil Patil, Ahmed Raza, Muhammad Shahzad, Abdul Shakoor
USA: Muhammad Ghous (captain), Alex Amsterdam, Fahad Babar, Adil Bhatti, Akeem Dodson, Karan Ganesh, Naseer Jamali, Japen Patel, Mrunal Patel, Timil Patel, Hammad Shahid, Jasdeep Singh, Nicholas Stanford, Steven Taylor, Shiva Vashishat.