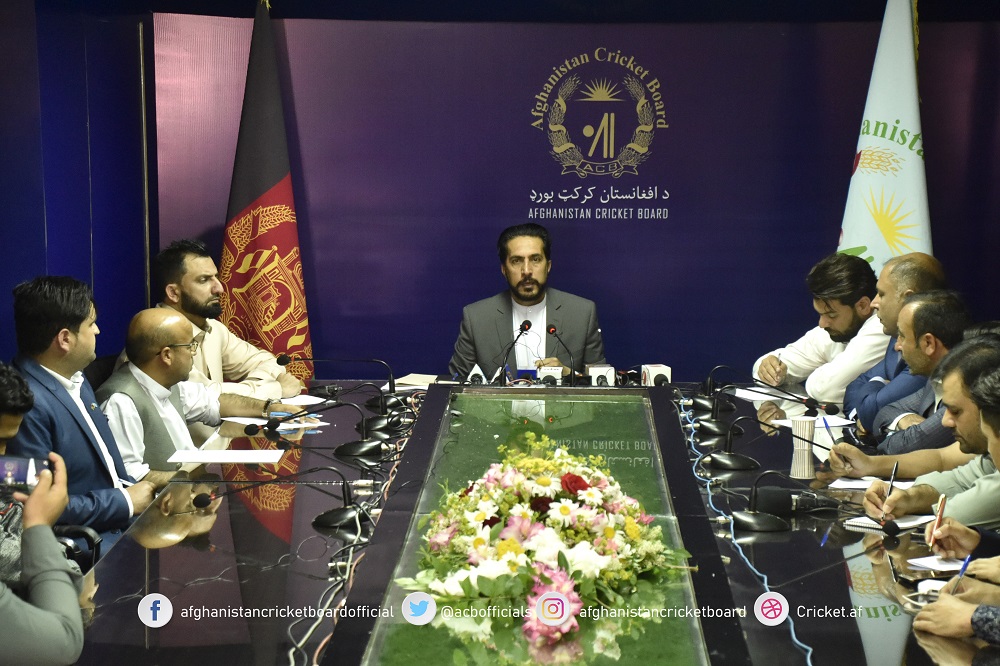 ACB undergoes important structural changes
ACB leadership announced some important changes in the organization's structure today that included changes in its Board, selection committee and also appointment of a special committee for the management of Afghanistan Premier League T20.
Addressing a press conference, ACB Chairman Azizullah Fazli named the new board members that included Member of the Senate Ms. Gulalai Noor Safi; the acting minister of Urban development and Land, Ahmad Jawad Paikar; Senior Advisor the President, Mr. Zia-ul Haq Amarkheil and Afghanistan's ambassador to Islamabad and former ACB Chairman, Mr. Shukrullah Atif Mashal. They were named as replacements for Mr. Hekmat Khalil Karzai, Mr. Ekleel Hakimi, Mr. Sayed Saadat Mansoor Nadiri and Mr. Ahmad Shah Sangdil.
Mr. Fazli indicated that the ACB leadership had proposed the mentioned members to the Presidential Palace which were duly approved.
The structural changes also involved introduction of former head coach, Mr. Andy Moles and National Coach, Mujahed Zadran as the new members of the selection committee.
Mr. Fazli added," Mujahed Zadran has been involved with ACB at various assignments and is an experienced coach while Mr. Moles is the only foreign coach who has been involved in the training of our junior and senior teams including A team, U19 team and national team. "
He added that Former Chief Selector Dawlat Khan Ahmadzai will serve as the Selection head for junior (U15, U17 and U19) teams.
Fazli also said that Mr. Asadullah Khan will continue to serve as the acting CEO of ACB until the Presidential approval for a new CEO proposed by the Board members under ACB's constitution.
The changes also impacted the Media department as Former Game Development manager, Mr. Jaar Abdulrahimzai was appointed the new Media manager.
In order to effectively manage the Afghanistan Premier League T20 (APL T20), the ACB Chairman appointed a special committee comprising of relevant ACB administrative officials that include Mr. Shahid Alokozay as the head of the committee and Mr. Atiq Abbas, Mr. Minhajuddin Raz and Mr. Abdul Hadi dareez as the members .
Fazli added that the league will feature Afghan and foreign players and expressed hope that it will be able to unearth young and emerging talent for Afghanistan.
Former Chief Selector, Dawlat Ahmadzai also addressed the press conference and remarked that he respects the decision taken by ACB and hopes that these changes bear good results for the organization. He further added, "Change is inevitable in every organization and I respect it as part of the ACB. I believe that positive changes bring positive results. "